Ann Arbor, Michigan
February 29, 2008
Judge, Regular & Non-regular Classes: Kalen Dumke
Judge, Puppy & Veteran Sweepstakes Classes: Jon Reimer
Judge, Obedience: Sharon Redmer
Best of Breed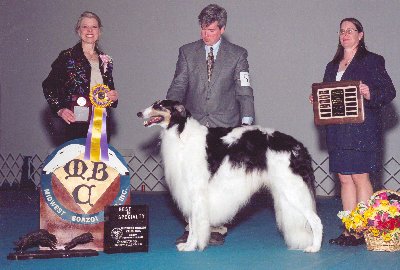 Am/Can CH Auroral's Across Time Sirius
by Am/Can CH POSH Echovesna's Islaev x CH Sirius Reach For the Stars
breeder: LaVonne Novakofski owners: Jon Steele & Jennifer Steele
Best of Opposite Sex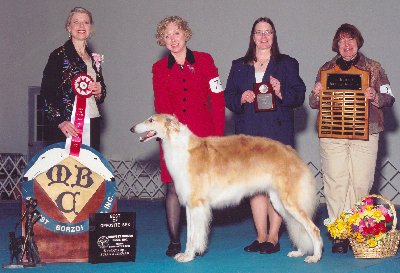 CH Timatuck Echovesna Honor
by CH Echovesna Zorro x Khanzade's Winter Olympic
breeders: Marcia Timmons & Katrina Averill. owner: Harriet Goldner
Winners Bitch & Best Of Winners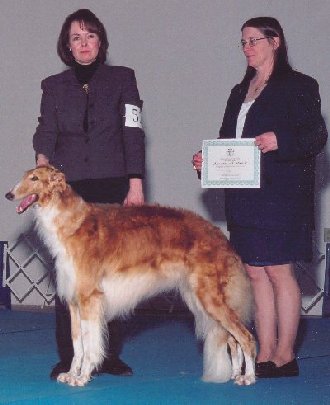 Meyta Blackmoor Single Sensation
by CH JAY JP Rajin At Meyta x CH Blackmoor Illusion Of'N Angel
breeders/owners: Laura Hyatt & Karen Wilkin & Christine Hart
Winners Dog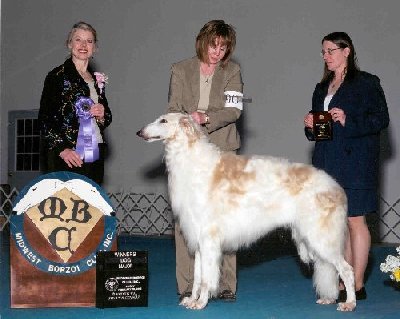 Chihawk The Natural
by CH Chihawk Windrift Sir Liam JC x CH Chihawk Tahoe Tomb Raider JC
breeder/owners: Tami Marshall & Peggy Marshall
Reserve Winners Dog
Legende's Patrician Fendi
by Ch Staraja Russa Dushil Legende x Ch Legende's E-Baronessa Pearle
breeder/owner: Patricia Sargeant
Reserve Winners Bitch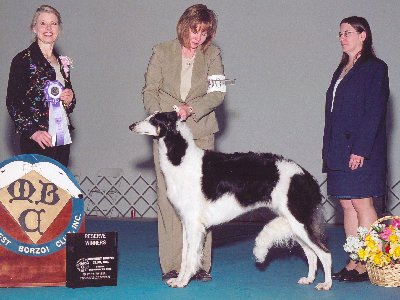 Echovesna's Chihawk First Luv
by CH Chihawk Tahoe First Wave x CH Echovesna's Abracadabra
breeder: Harriet Goldner. owners: Tami Marshall & Peggy Marshall
Award of Merit, & Best Veteran In Show, & First Veteran Dog 7 Years And Under 10 Years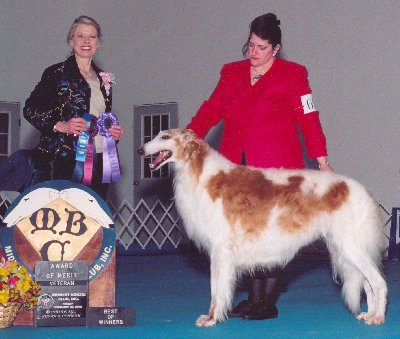 CH JAY JP Raiga At Meyta
by Am/Can CH Meyta Dostoyevski x CH Seabury's Lauralei
breeder: Jay Ito owner: Laura Hyatt
Award of Merit & First, Brood Bitch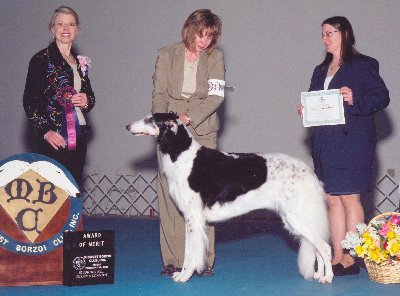 CH Chihawk Tahoe Tomb Raider JC
by Ch Seventh Dynasty Of The Wild Hunt JC x Tahoe's Bright Chihawk Rose SC
breeder: Tami Marshall & Peggy Marshall & KC Artley Owners: Tami Marshall & Peggy Marshall
Award of Merit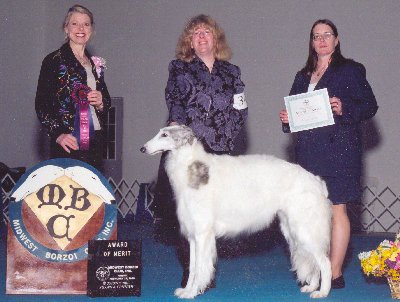 CH Majenkir Raynbo's Silver Cameo
by CH Majenkir Nearctic x Bookstore Vanity Fair O'Majenkir
breeder: Karen Cartabona. owners: Roni Zucker & Jennifer Zucker & Karen Cartabona.
Award of Merit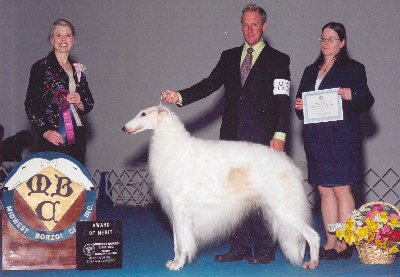 CH Radozny Aviann Opium Asgard
by CH Aviann Occum's Razor x CH Radozny Kalisza
breeders: Pamela Hall & Viann Clements. owners: Caroline Thibodeau & Lucie Langlois
First Stud Dog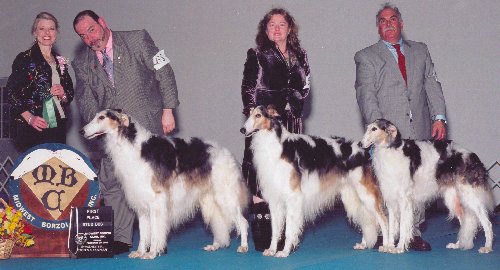 CH Staraja Russa Dushil Legende
by Darbascan's Scotch Amber x Borscana Helter Skelter
.breeder: Susanna & Kristiina Voutilainen. Owner: Patricia Sargeant
Best in Veteran Sweepstakes
CH Nickolai Blu Velvet Clairidge CDX
by Cordova Mishkova Red Falcon x CH Nickolai Daria Aphrodite
breeders: Bonnie Nichols & Barbara Horwitz & Mary Vile owner: Bonnie Nichols
Best of O
pposite Sex Veteran Sweepstakes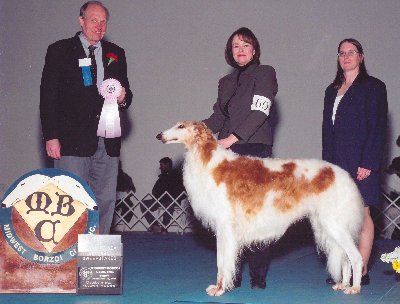 CH JAY JP Raiga At Meyta
by CH Meyta Dostoyevski x CH Seabury's Lauralei
breeder: Jay Ito owner: Laura Hyatt
Best in Puppy Sweepstakes

Auroral Rising Star Iroquois
by CH Auroral's Across Time Sirius x CH Rising Star Liberty Belle
breeder: Nadine Johnson. owners: Jon Steele & Jenni Steele
Best of O
pposite Sex Puppy Sweepstakes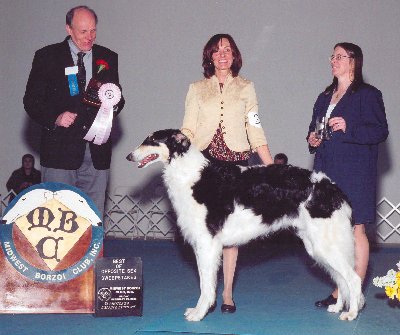 Aashtoria Wildhunt 4 Your I's Only
by CH Mascha's Nepal Of The Wild Hunt SC x CH Svora's Secret Rendezvous JC
breeders: Robin Riel & G Ariel Duncan. owners: G Ariel Duncan & Ralph Jamison
High Score In Obedience Trial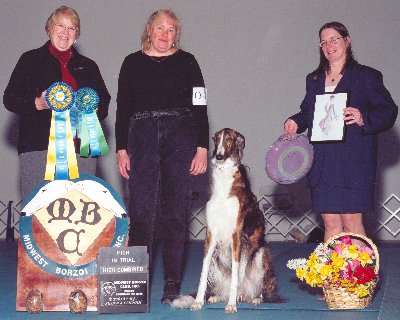 CH Nickolai Ryndar Aziza Riju UD JC NJP RN
by DC Teine Windmaster Of Foxwood SC x CH Nickolai Vasilev Vermilion
breeder: Bonnie Nichols. owners: Rich & June Mintchell
Photographer: Photos by Susan & Lennah
HOME Top of Page This site was last updated 06/28/10 © 2008 Midwest Borzoi Club. All Rights Reserved.