Midwest Borzoi Club Specialty
Racine, Wisconsin
August 6, 2004
Judge, Regular & Non-regular Classes: Lee Canalizo
Judge, Puppy & Veteran Sweepstakes Classes: Rebecca Peters-Campbell
Best of Breed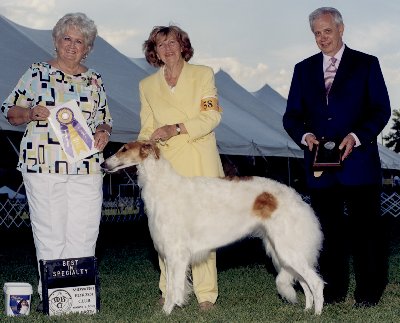 CH Rising Star's Liberty Belle
by CH Attaway Kyrov Star Kissed x CH Rising Star's Nofretary
breeder/owner: Nadine Johnson
Best Opposite Sex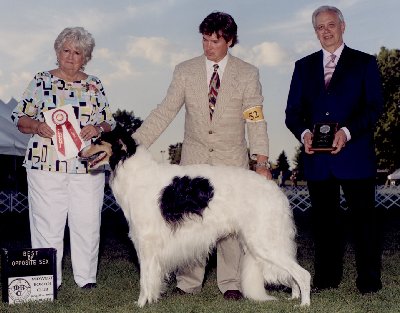 CH Auroral's Avalanche
by CH Auroralís Marathon x CH Auroralís Courvoisier
breeder/owners: Jon Steele & Jennifer Steele
Winners Bitch & Best of Winners & Best Puppy In Show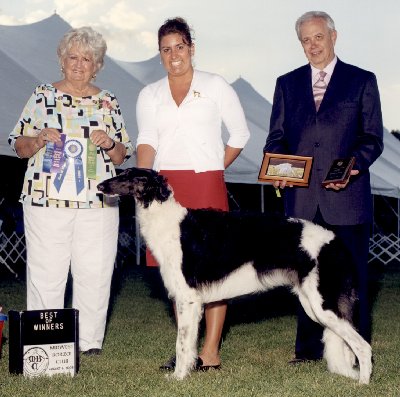 Rising Star Kajai Ariadne
by CH Warwind Journey Into Night x CH Rising Star's Nofretary
breeders: Nadine Johnson & Kathryn Wright & James Wright owners: Barbara Lord & Kathryn Wright
Winners Dog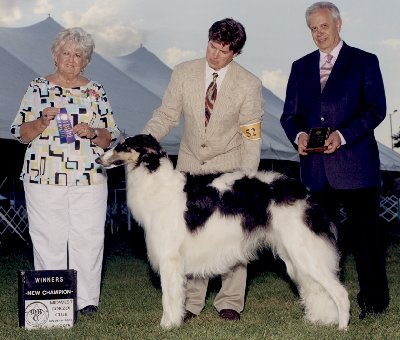 Auroral's Across Time Sirius
by CH POSH Echovesna's Islaev x CH Sirius Reach For the Stars
breeder: LaVonne Novakofski owners: Jon Steele & Jennifer Steele
Reserve Winners Bitch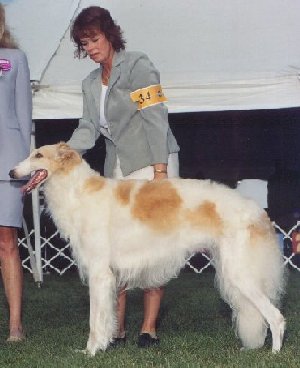 Fern Meyta Earthly Delight
by CH JAY JP Raiga at Meyta x Ch Meyta Ferns Gabrielle Grace
breeder: Fern Johnson owner: Laura Hyatt
Reserve Winners Dog
Mayberry's Hawker Hurricane
by CH Teine Windmaster of Foxwood SC x FC Mayberry's Color Me Gone SC
breeder/owner: Pamela Mayberry
Award of Merit & Best Veteran In Show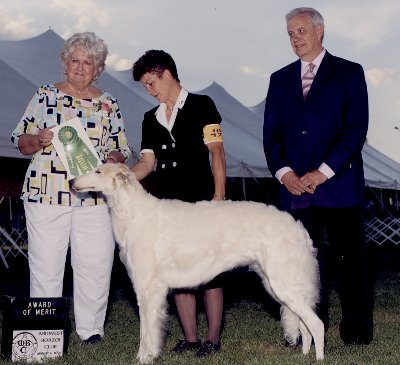 CH Camelot Jennifer of Pavlovna
by CH Romalyn's Konstantin Nicka UD SC x Pavlovna Dusty Rose JC
breeder: Paul Link & Jennifer Ward owner: Karen Haberkorn
Award of Merit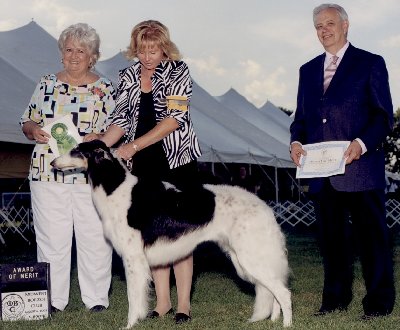 CH Chihawk Tahoe Tomb Raider JC
by CH Seventh Dynasty Of The Wild Hunt JC x Tahoe's Bright Chihawk Rose SC
breeders: Tami Marshall & Peggy Marshall and KC Artley owners: Tami Marshall & Peggy Marshall
Award of Merit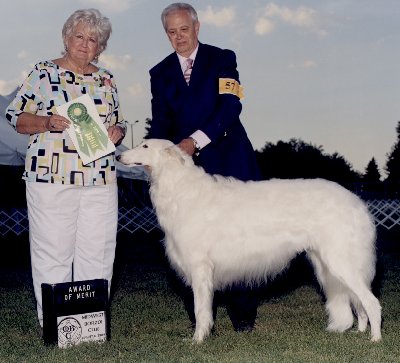 CH Majenkir Talisman
by CH Majenkir My Castiron O'Avalyn x Majenkir Jemma Agridor
breeder: Karen Staudt-Cartabona owners: Gary Nash & Michelene Nash
Award of Merit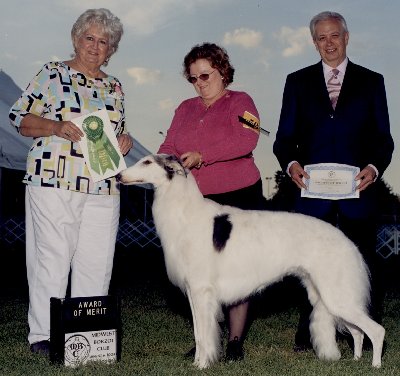 CH Soyara's Chantilly Lace
.
by CH Rossak of Enfield x CH Soyara Misleading Lady Essar
breeders: Prudence Hlatky & Sabrina Rhoades. owners: Prudence Hlatky & Gregory Hlatky
Best in Veteran Sweepstakes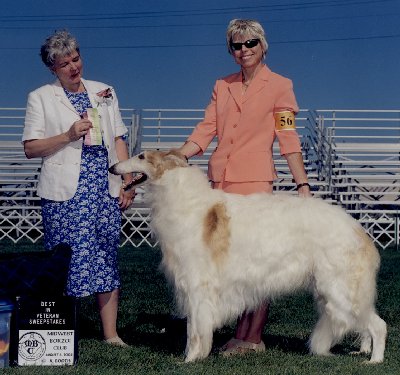 CH Nonsuch Heir Apparent
by CH Nonsuch The Kingmaker x CH Nonsuch Caliope of Zelmora
breeder/owners: Kalen Dumke & Karen Dumke
Best Opposite Sex Veteran Sweepstakes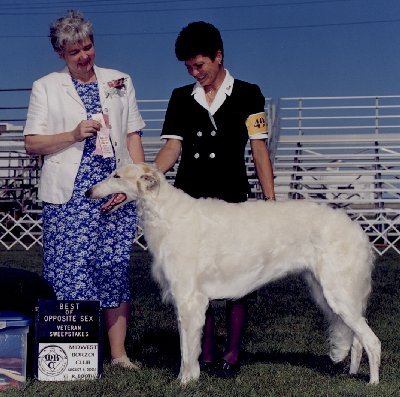 CH Camelot Jennifer of Pavlovna
by CH Romalyn's Konstantin Nicka UD SC x Pavlovna Dusty Rose JC
breeders: Paul Link & Jennifer Ward. owner: Karen Haberkorn
Best in Puppy Sweepstakes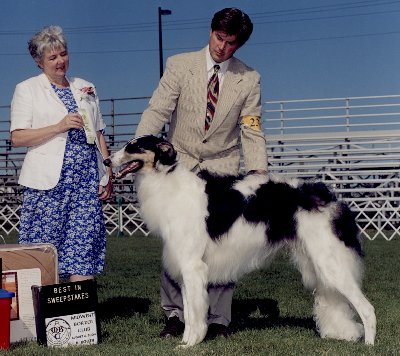 Auroral's Across Time Sirius
by CH POSH Echovesna's Islaev x CH Sirius Reach For the Stars
breeder: LaVonne Novakofski owners: Jon Steele & Jennifer Steele
Best of Opposite Sex Puppy Sweepstakes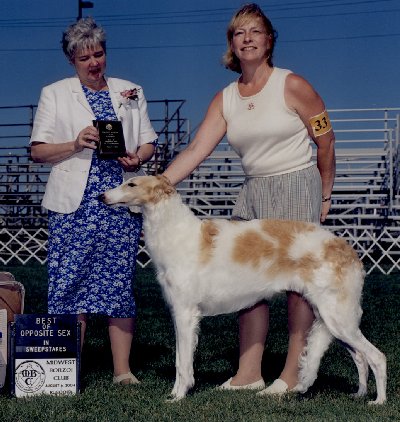 Lythe Golden Fleece
by Lythe Moulin Rouge x Lythe Mississippi Mermaid
breeder: Melanie Richards owner: Lydia Pruett
HOME Top of Page This site was last updated 01/11/08 © 2007 Midwest Borzoi Club. All Rights Reserved.