Franksville, Wisconsin
August 11, 2018
Judge, Regular & Non-Regular Classes: James Fredericksen
Judge, Puppy & Veteran Sweepstakes: Kristina Terra
marked catalog pages
Best of Breed

GCHS Konza Plum Creek Bugatti At Elance
by GCH Elance Beyond The Blue x GCH Katz Fashion Finesse At Konza
breeders: Kay Cassella & Robert Bates owners: Cherie Hunchak & Kay Cassella & Robert Bates handler: Kay Cassella
Booth Photo
Best of Opposite Sex

GCH Chihawk Wave Raider
by CH Chihawk Tahoe First Wave x GCH Chihawk Echovesna I Luv You
breeder/owners: Tami Marshall & Peggy Marshall handler Robin Novack
Booth Photo
Winners Dog & Best Of Winners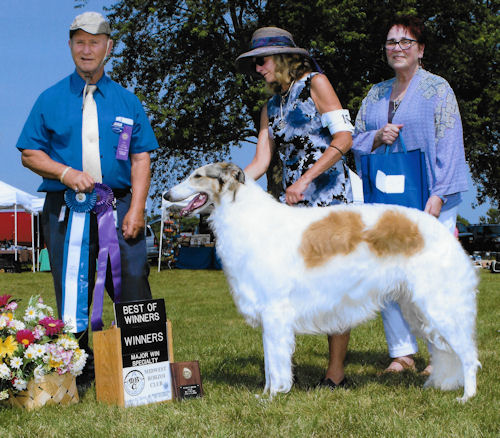 Paradise Spirit Chariots Of Fire
by GCHS Konza-Plum Creek Bugatti Elance & CH Konstantin's Summer Rain.
breeders/owners: Susan M. Motisi & Kristi Arnquist. handler: Kristi Arnquist
Booth Photo
Winners Bitch

Dion's Vassa
by Donskoi Vigow & Rusich Tearskaya Shtuchka
breeder: Elo Rahamagi.
owners: Barbara Tyler Lord, Frederick Lord DVM and Meghann D. Lord-Fenn. handler: Meghan Vos
photo by Barbara Tyler Lord
Reserve Winners Dog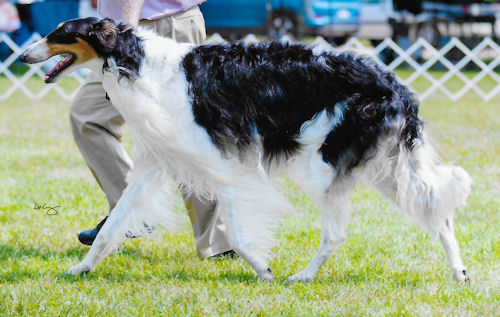 Windrift Longshot At Tahoe
by GCH DC Windrift Tahoe Chances Are SC FCH ROM-C x GCH Windrift Need You Tonight JC
breeders: Jon & Nancy Reimer Owners: Steven & KC Artley
photo by Vicki DeGruy
Reserve Winners Bitch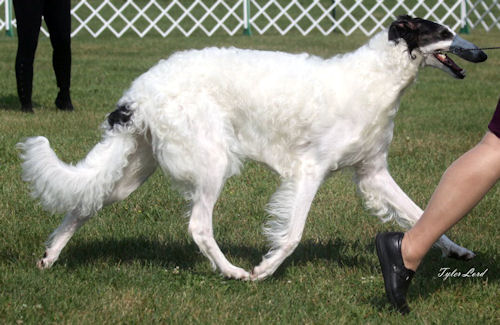 Elance Ruffles And Truffles
by Elance Master And Commander & Elance Truth Or Dare
breeder/owner: Cherie Hunchak handler: Kay Cassella
photo by Barbara Tyler Lord
Select Dog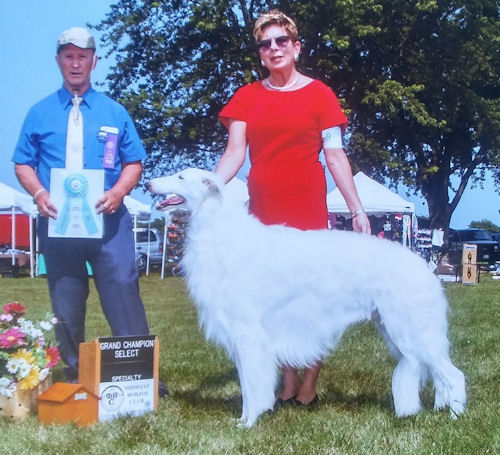 CH Avalyn If You Believe
by CH Majenkir Bookstor Fyodor Fine Art & CH Avalyn Everything My Heart Desires
breeders: Lynne Bennett & Rachel Bennett owners: Lynne & Mike Bennett
Booth photo
Select Bitch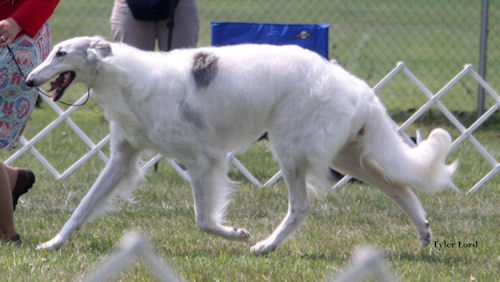 CH Dana Dan Guinevere V Twin Elms
by Ch Twin Elms Trace of Smoke V Dana Dan JC & Twin Elm's Kolejka
breeders: Suzan Breaz & Dana Thompson owners: Dana Thompson & Ardietta Thompson handler: Meghan Vos
photo by Barbara Tyler Lord
Award of Merit
GCH Lejoy Carol's Wintergreen Jojo's Gift Of Grace
by CH Majenkir Front And Center ROM-C & GCH Sylvan Stupefyin Jones
breeder/owner: Carol Levine
Award of Merit
GCH Elektra Krasivi Matrioshka RN CGC
by Linx Winds From Russia & Sonja Fi-It
breeder: Vendula Svobodova owners: Yoriko Dixon & Lois Schultz. handler: Lois Schultz
Award of Merit

CH Vitrina Fiero
by GCH Vitrina Constellation & GCH Vitrina Sylvan One From The Heart JC
breeder/owner: Valori Vig Trantanella
Award of Merit
First, Veteran Dog 7 Years And Under 10 Years
Best In Veteran Sweepstakes

GCH Vitrina Ticonderoga
by CH Vitrina Rockyroad To Justice & GCH Vitrina Heart Of Gold Hvala Trillion JC FCH
breeder/owner: Valori Vig Trantanella.
Booth photo
Best Opposite Sex Veteran Sweepstakes


GCH Chrysalis Endless Night
by CH Manitias Brilliant In Black & GCH Chrysalis Winter Gold.
breeders: Pamela Jo Leichtnam & Janis Mcferrin owner: Pamela Jo Leichtnam
Booth photo
Best in Puppy Sweepstakes

Rufftuff Riverrun Scotty Karate
by DC Teine Zharkov Lucky Number & DC Riverrun Oxota Fire In The Glen Avalon JC MC CGC FCH SGRC
breeders: Kristen Suhrenbrock, Tina Wismer, Karla Smith & Tim Williams.
owners: Tim Williams, Tina Wismer & Karla Smith. hander: Tina Wismer
Booth Photo
Best of O
pposite Sex Puppy Sweepstakes


Chrysalis Jubilee Amaro
by CH Estet Classic Yarolik At Chrysalis & GCHB DC Jubilee Drop Of Golden Sun SC FCH
breeder: Cindi Gredys owner: Pamela Jo Leichtnam
Booth Photo
HOME Top of Page This site was last updated September 27, 2018 © 2018 Midwest Borzoi Club. All Rights Reserved.