Kalamazoo, Michigan
May 25, 2014
Judge, Regular & Non-regular Classes: Shirley McFadden
Judge, Puppy & Veteran Sweepstakes Classes: Gary Nash
Best of Breed
Best in Veteran Sweepstakes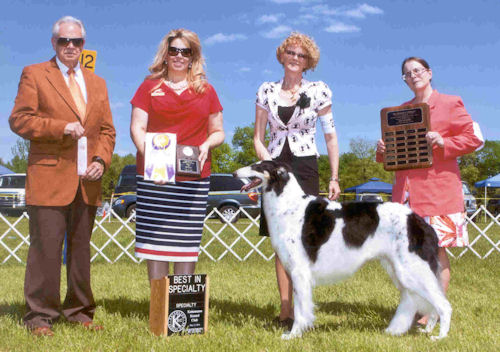 CH Aashtoria Irishbrook La Rochelle JC
by DC Tour De France Of The Wild Hunt CD SC CGC LCM JOR ROMX - CH Babotjka's Fantaziya SC ROMX-C
owner: Robin Riel breeder: Robin Riel & Michael Savage & Vicki Savage
handler Marilyn McGraw trophy presenter MBC president Lynne Bennett
Best of Opposite Sex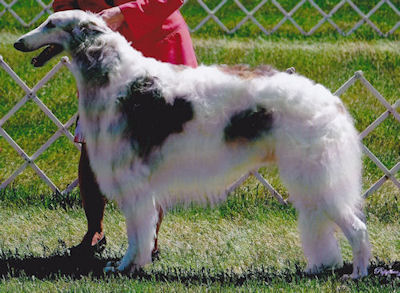 GCH Avalyn's Magnum Force
by CH Majenkir Regal By Design ROMX-C - CH Avalyn's All About Eve ROM-C
owner: Lynne Bennett & Barbaranne Benjamin breeder: Lynne & Mike Bennett
Select Bitch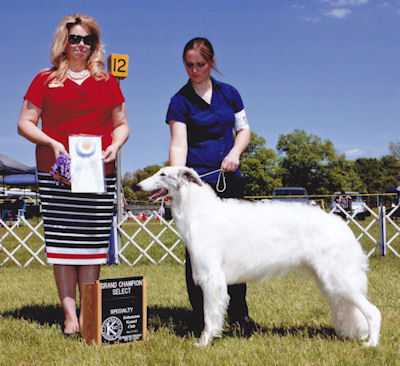 CH Avalyn's Serenity
by Majenkir Bookstor Fyodor Fine Art - CH Avalyn Everything My Heart Desires
breeder/owner: Lynne Bennett & Rachel Bennett
Select Dog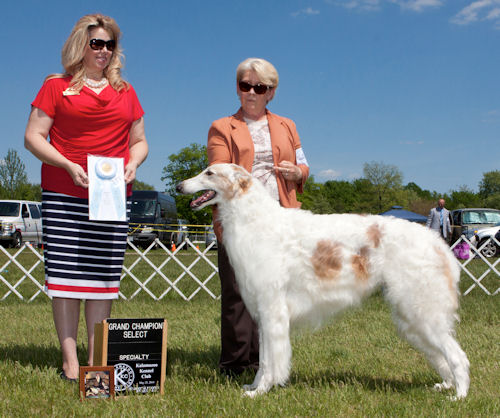 CH Aruzia Moonstone Of Rivervue
by GCH Aruzia Priority One JC, CGC, ROM-C - GCH Borscana Coyote Letrans JC, ROM-C
breeder: Lorrie & John Scott owner: Virginia Jones
Award of Merit
CH Nonsuch Chrysalis Sun Never Sets
by CH Nonsuch Marching Orders - CH Nonsuch Wind Chill
owner: Pamela Leichtnam breeder: Kalen & Karen Dumke
Award of Merit
CH Melockoff Phaedra Corazon De Verdad JC
by Phaedra Ederlezi JC - CH Leicro's Russian Ztargirl RN JC
breeder/owner: Gale Snoddy
Award of Merit
CH Anotak Polar Icecap
by CH Majenkir Nearctic - CH Anotak Essence Of Dream
breeder/owner Joyce & Roger Katona
Award of Merit
CH Eclipse Mild-Mannered Reporter

by DC Teine Windmaster Of Foxwood SC ROMX - CH Katz Capricious Charm JC

breeder/owners: Christopher Moyer & Kelly Brunarski
Winners Bitch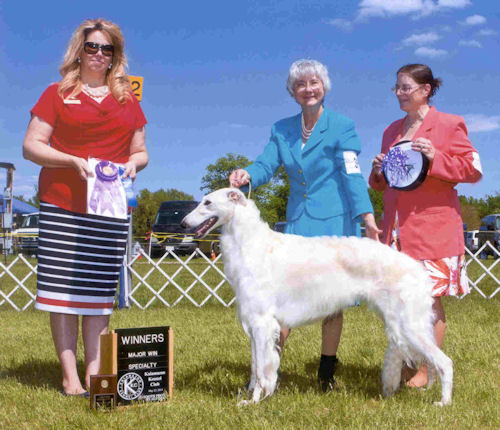 Lejoy Carol's Blue Bayou

by CH Majenkir Front And Center - GCH Sylvan Stupefyan Jones

breeder/owner: Carol Levine
Best of Winners/Winners Dog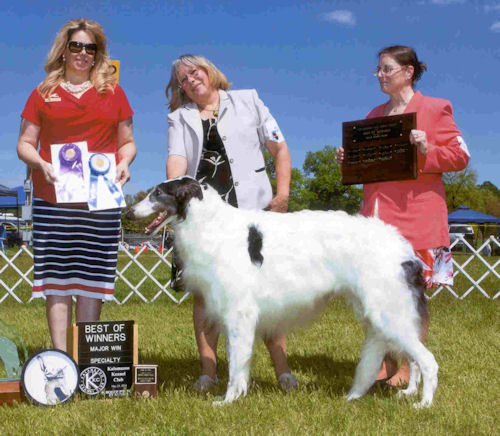 Nickolai Khurik Winddragon At Freeflight
by DC Tiene Nicolaus Copernicus SC - CH Nickolai Olovo Alyss CD
owner: Deborah Dine breeder: Bonnie Nichols
Reserve Winners Dog
Meyta Oaklara Cosmopolitan
by CH Annwn Ascalon - CH Oaklara Maryushka.
owner: Laura Hyatt breeder: Patricia Murphy
Reserve Winners Bitch
Melockoff's Heart Of Darkness
by Phaedra Ederlezi JC - CH LeiCro's Russian Ztargirl RN JC
breeder/owner: Gale Snoddy
Best in Puppy Sweepstakes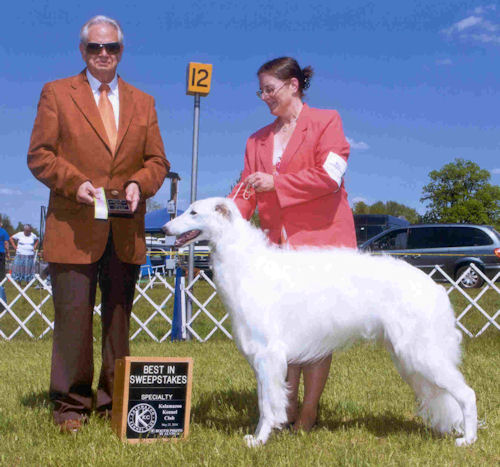 Avalyn If You Believe
by Majenkir Bookstor Fyodor Fine Art - CH Avalyn Everything My Heart Desires
owner: Lynne & Mike Bennett Breeder: Lynne & Rachel Bennett
Best of O
pposite Sex Puppy Sweepstakes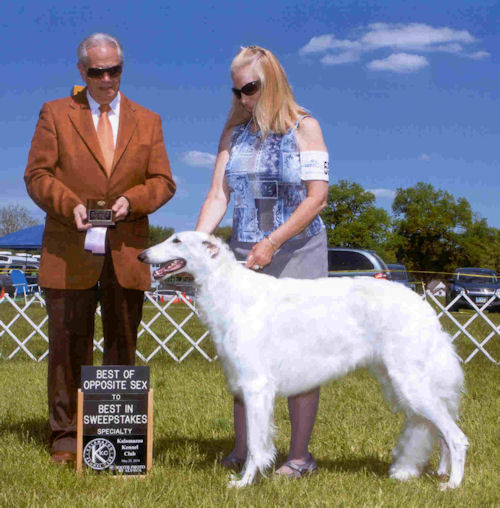 Anotak Promise You My Heart
by CH Majenkir Regal By Design - GCH Anotak Mandalay Bay SC
breeder/owner: Joyce & Roger Katona
Photographer: Kim Booth complete results at www.infodog.com
HOME Top of Page This site was last updated 10/30/14 © 2014 Midwest Borzoi Club. All Rights Reserved.