Cudahy, Wisconsin
August 9, 2014
Judge, Regular & Non-regular Classes: Patricia Murphy
Judge, Puppy & Veteran Sweepstakes Classes: Veni Harlan
Best of Breed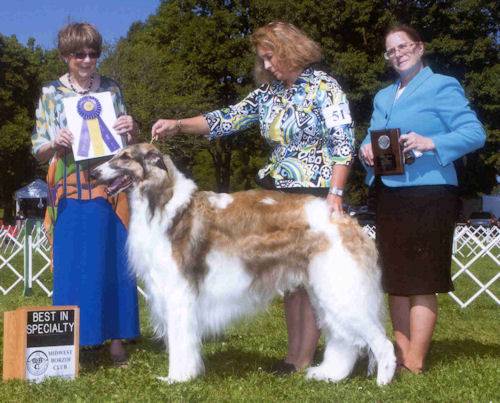 GCH Auroral's Artemus
by GCH Auroral's Ajax - GCH Auroral's Rising Star Iroquois
breeder/owner: Jon & Jennifer Steele
Best of Opposite Sex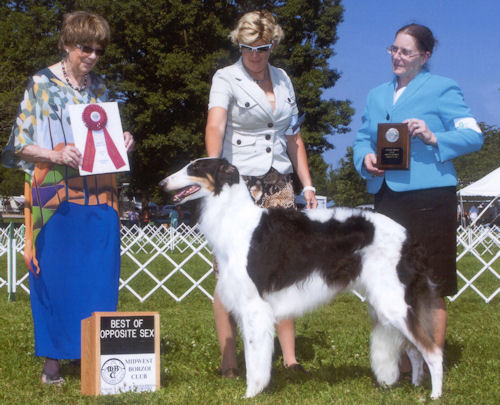 GCH Chihawk Echovesna I Luv You
by Echovesna Koral Good Vibrations - CH Echovesna Chihawk First Luv
owner: Tami Marshall & Peggy Marshall breeder: owners & Henri Goldner
handler: Laura King trophy presenter Lynne Bennett
Select Bitch
CH Avalyn's Serenity
by Majenkir Bookstor Fyodor Fine Art - CH Avalyn Everything My Heart Desires
breeder/owner: Lynne Bennett & Rachel Bennett
Select Dog
CH Vitrina Constellation
by CH Vitrina Rocky Road To Justice - GCH Vitrina heart O Gold Hvala Trillion
breeder/owner: Valori Trantranealla
A
ward of Merit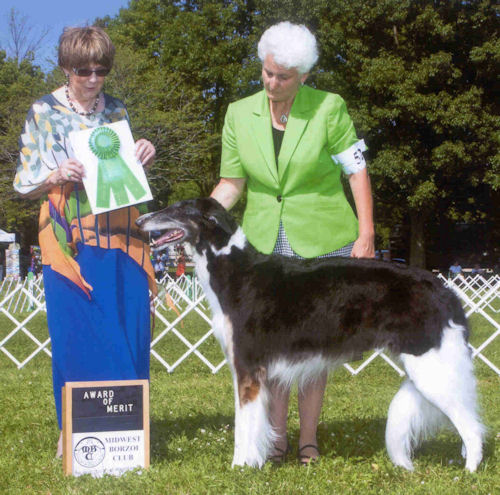 CH Chrysalis Endless Night
by CH Manitias Brilliant In Black - GCH Chrysalis Winter Gold
owner: Pamela Leichtnam breeder: Pamela Leichtnam & Janis McFerrin
Award of Merit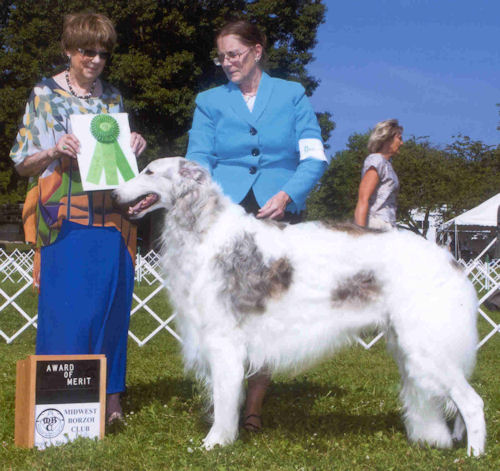 GCH Avalyn's Magnum Force
by CH Majenkir Regal By Design - CH Avalyn All About Eve
owner: Lynne Bennett & Barbaranne Benjamin breeder Lynne & Mike Bennett
Award of Merit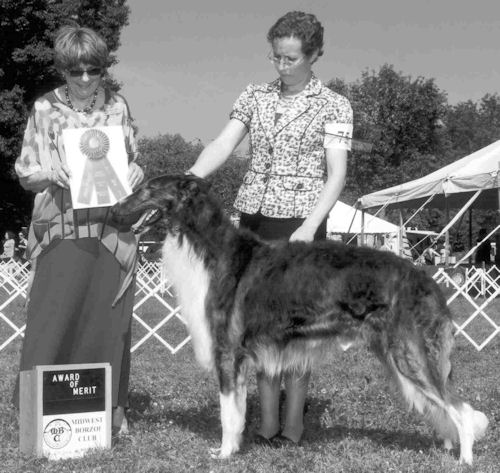 CH Mielikki HiNote Secret Agent Man
by Avalon Time's Dark Traveler JC - Mielikki Windhaven's Whispered Secret
owner Renee McCartin breeder Renee McCartin & Margaret Strother Handler Kari McCoskey
Award of Merit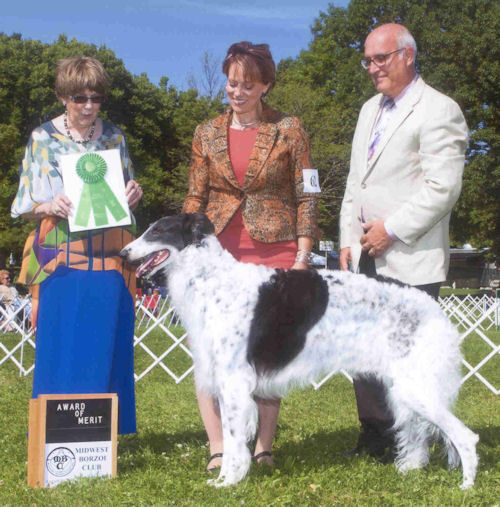 GCH C'lestial Orient Express

by Kansai'z Diario JC - FC C'lestial High Society SC

owners: Michael & Diane Bilak breeder: Liz Green & Karen Murray
Winners Bitch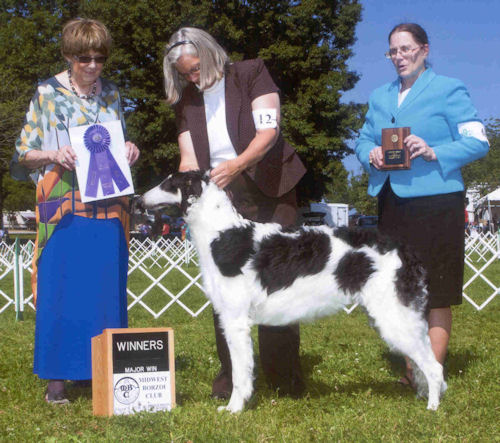 Windrift Need You Tonight

by GCH Windrift Inherit The Wind - GCH Windrift Katlyn At Pinoaks

breeder/owner: Jon & Nancy Reimer
Best of Winners/Winners Dog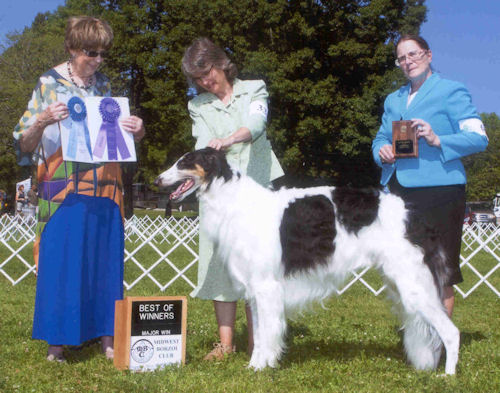 Riju Enjoy The Ride JC
by CH Riju Teine Fun & Games JC CDX - CH Teine Lunar Eclipse CD
owner: June Mintchell & Anne Midgarden breeder: June Mintchell & Sandra Hilbert
handler: Anne Midgarden trophy presenter Lynne Bennett
Reserve Winners Dog
Chihawk Incredible Dreeamboat
by GCH Aashtoria Wildhunt 4 Your I's Only - CH Chihawk Stealing Home JC.
breed/owner: Tami Marshall & Peggy Marshall
Reserve Winners Bitch
Avalyn Wild Hearts Can't Be Broken
by CH Avalyn's Dragan Prince - CH Avalyn's All About Eve
breeder/owner: Lynne Bennett & Barbara Danieli
Best in Veteran Sweepstakes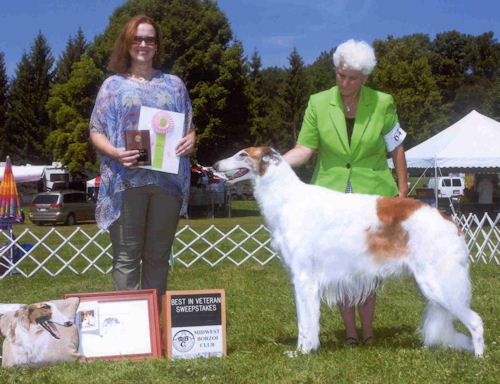 GCH Chrysalis Winter Gold
by Starborough Smoke Chant - CH Starborough Pavlovna
breeder/owner: Pamela Leichtnam
Best in Puppy Sweepstakes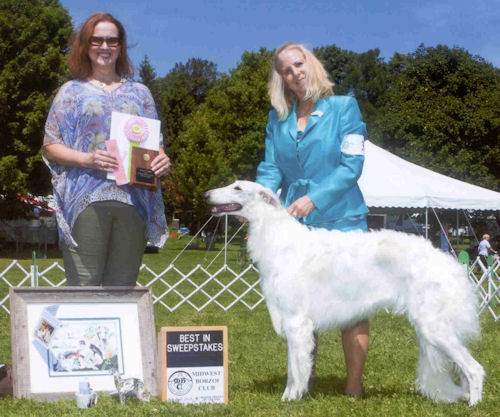 Anotak Promise You My Heart
by CH Majenkir Regal By Design - GCH Anotak Mandalay Bay SC
breeder/owner: Joyce & Roger Katona
Best of O
pposite Sex Puppy Sweepstakes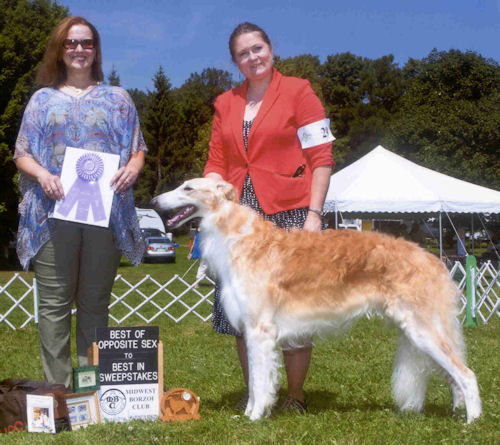 Vitrina Fiero
by CH Vitrina Constellation - GCH Vitrina Sylvan One From The Heart
breeder/owner: Valori Trantanella
Photographer: Kim Booth complete results at www.infodog.com
HOME Top of Page This site was last updated 10/15/14 © 2014 Midwest Borzoi Club. All Rights Reserved.