Novi, Michigan
January 21, 2012
Judge, Regular & Non-regular Classes: Barbara Alderman
Judge, Puppy & Veteran Sweepstakes Classes: Suzan Breaz
Best of Breed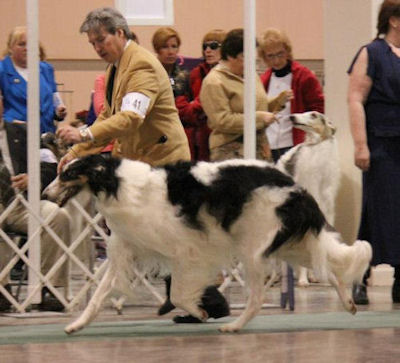 Am/Can CH Auroralís Across Time Sirius ROM-C
by Am/Can Ch POSH Echovesna's Islaev ROMX-C x Ch Sirius Reach For The Stars)
breeder: LaVonne Novakofski, owner: Jon & Jennifer Steele
Best of Opposite Sex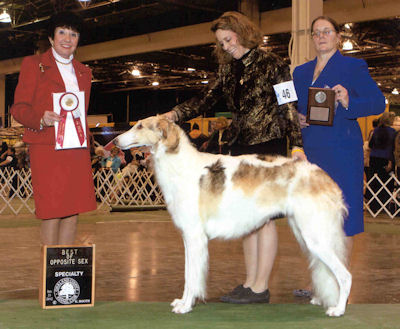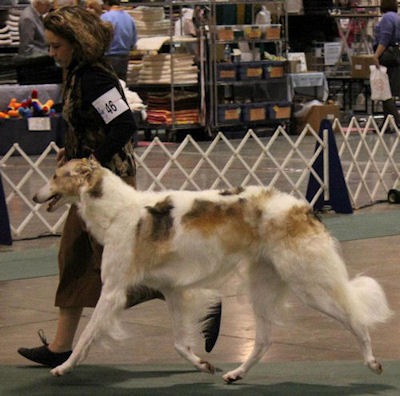 CH Auroralís Antigone
by Am/Can Ch Auroral's Ajax x GCH Auroral Rising Star Iroquois)
breeder/owner: Jon & Jennifer Steele
Best of Winners, Winners Dog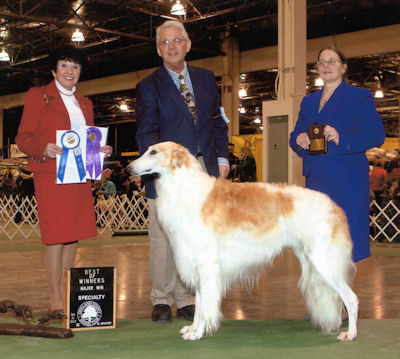 Seabury Fantasia Maswik
by DC Sylvan Seabury Virago SC FCH ROMX-C x Ch Fantasia's Unchain My Heart
breeder/owner: Dr James Sillers & Judith K Dennis
Winners Bitch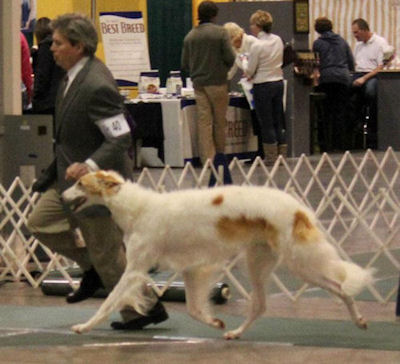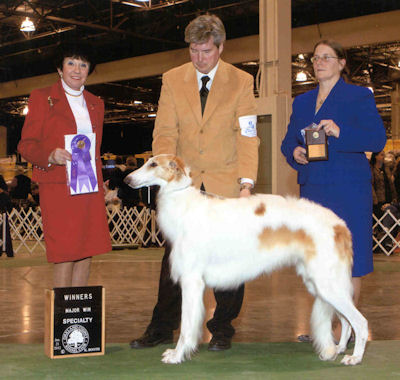 Auroralís Jasmine Oronzova
by Am/Can Ch Auroral's Across Time Sirius ROM-C x Ch Virshina Oronzova Sweet Sizzle
breeder Suzanne Deghi, owner: Jon & Jennifer Steele
Reserve Winners Dog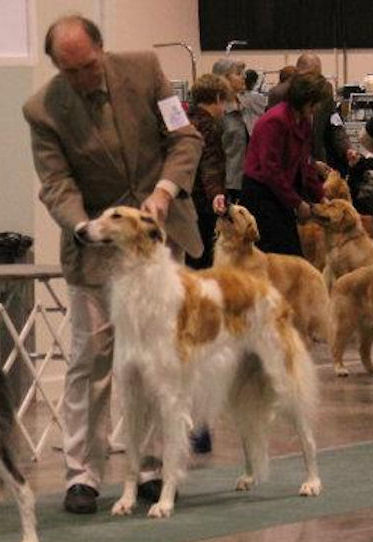 Windrift Inherit The Wind
by Ch Aashtoria Wildhunt 4 Your I's Only RN x Ch Windrift Keepin' The Faith
breeder/owner: Jon & Nancy Reimer
Reserve Winners Bitch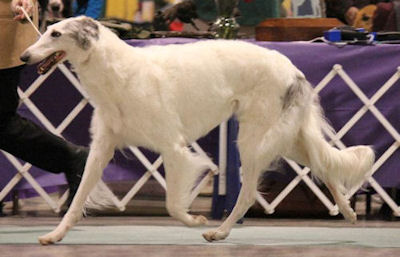 Katushka-Meyta Anna Sui JC FCH
by
CH Katushka's Rock-Star JC x CH Katushka-Kyrov's Splash ROM-C
breeder Joyce Law & Laura Hyatt, owner: Joan Tierney & Joyce Law
Select Bitch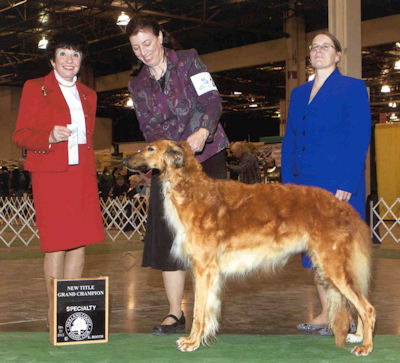 CH River Bend Zanzibar JC
by
Ch Rassim's Eric Der Rote At Teine x Ch Nickolai Ryndar River Aziza CD RN JC FCH
breeder/owner: Marilyn Kivela & Charles Mayer
Select Dog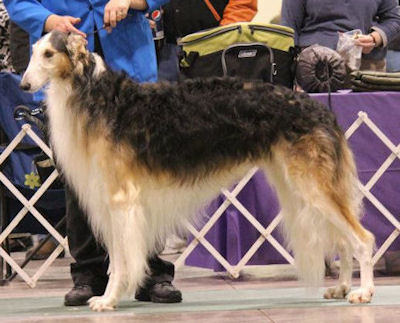 CH Riju Teine Fun & Games CDX JC RN
by Ch Teine Intrinsic JC RN UD OA OAJ x DC Annwn Edessa SC
breeder: June Mintchell, owner: Rich & June Mintchell
Award Of Merit

CH Auroralís Lightning Strikes
by Am/Can Ch Auroral's Across Time Sirius ROM-C x Auroral's Alyeska
breeder Jon & Jennifer Steele, owner: Carol A Olson & Jon T Steele & Jennifer L Steele
Award of Merit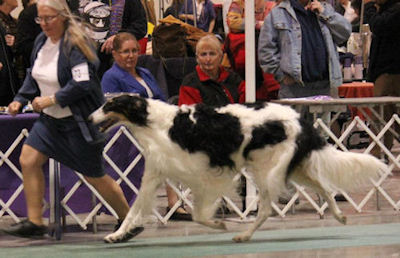 DC Ariaís Aramon At Tahoe CD BN RA SC FCH
by
DC Kirov Desperado At Aria RN LCX SC FCH x DC Svora's Whirlaway SC FCH
breeder Rita Rice & Richard Terry, owner: Steven & K Carol Artley,
Award of Merit

CH Teine Run Down A Dream
by Ch Mayberry's Hawker Hurricane x Ch Teine Devil May Care
breeder Anne Midgarden, owner: Donna Kemp & Joseph Kemp
Best in Veteran Sweepstakes

Am/Can CH Auroralís Across Time Sirius ROM-C
by Am/Can Ch POSH Echovesna's Islaev ROMX-C x Ch Sirius Reach For The Stars)
breeder: LaVonne Novakofski, owner: Jon & Jennifer Steele
Best of O
pposite Sex Veteran Sweepstakes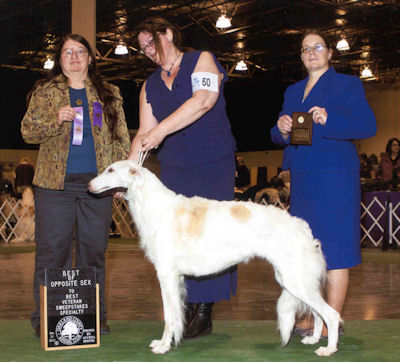 Jihan Akanni Absolutely Fabulous JC
by Ch Shefaro Ghranger's El Nino x Secret Garden Winged Lady
breeder: S Osborne & M Moran-Richter & C & B Mullis, owner: Amy Balthrop
Best in Puppy Sweepstakes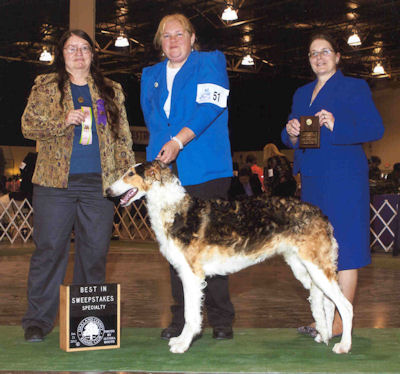 Riju Fun & Games
by Ch Riju Teine Fun & Games JC CDX RN x Ch Teine Lunar Eclipse CD RN
breeder June Mintchell & Sandra Hilbert, owner: June & Rich Mintchell
.
Best of O
pposite Sex Puppy Sweepstakes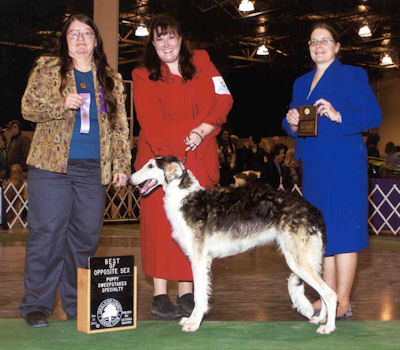 Nickolai Khurik Mystral Wind At Highgarden
by DC Teine Nicolaus Copernicus SC x Ch Nickolai Olovo Alyss
breeder Bonnie Nichols, owner: Amy & Charles Sikula
Show Photographer: Kim Booth
MBC Photographer: Jamie Bobrowski complete results at www.infodog.com
HOME Top of Page This site was last updated 04/08/12 © 2012 Midwest Borzoi Club. All Rights Reserved.